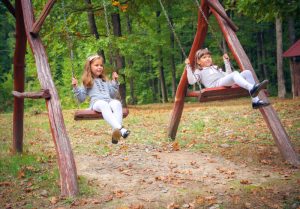 A child-centered divorce means both parents commit to shield their child from both the conflict and process of divorce. Children are much more aware of the tension, conflict, and details of divorce than we ever realize. Studies show children shielded from conflict have much better outcomes long term. That's why both parents must make a conscious, concerted, and proactive effort to protect their children from this process and conflict. Here are five ways for you and your spouse to make yours a child-centered divorce:
1) Have all divorce-related conversations when your kids are not in the same building.
Closed-door conversations can still negatively impact kids. Even if they cannot hear the words you are saying they still know you are talking about the other parent, the divorce, or coming changes. That awareness adds to their anxiety. The details that they did not hear are filled in by them often incorrectly. That awareness also keeps the divorce front and center in your child's mind. This means that they are not focusing on being a kid they are focusing on the divorce. Commit to having divorce related conversations only when the children are not in the house.
2) Agree with your spouse on a child therapist to provide confidential therapy giving them a safe space to share feelings without worrying about hurting a parent's feelings.
Children by their very nature want to please their parents so they often tell parents what the child believes a parent wants to hear. This is especially true in a divorce. Your child needs to be able to express his or her feelings about everything including you. If they fear hurting a parent's feelings, they are less likely to be honest and actually acknowledge their feelings let alone deal with them.
Explain to your child that you too will work with a therapist (every divorcing person should be in therapy) or that you have other resources such as friends or family members. Your child needs to know that you will take care of you and it is not their job to do so. Sharing some of your resources helps 1) normalize therapy for them and 2) reassures your child that you have resources to take care of your own feelings, so they do not need to worry about you even when you are sad. Make a concerted effort to reassure them and remind them that their job is only to be a kid.
3) Give your child your unequivocal blessing to enjoy their time with the other parent.
Make sure your child knows that you will use your time without them there to complete your errands so you can enjoy your time with them when they return. This helps them not worry about you and makes clear that you expect them (perhaps need them) to spend time with the other parent. This is important because every child needs a relationship with each healthy parent.
If you make clear that you expect them to go enjoy their time with the other parent they are more likely to develop a trusting relationship with both parents. For added incentive, parents should know that California courts look at the parental cooperation. Failing to help foster your child's relationship with the other parent can factor in a judge's decision related to parenting time and responsibility.
4) Do not grill your children about their time with the other parent.
Your child's return to your house becomes more stressful if they know they will be grilled. It also forces children to decide whether to tell you the truth or not about what happened – especially – if they know you have negative feelings regarding the other parent. Ask if they had a nice time and stop there. Be genuinely glad that they had a good time. If concerns are raised, thank the child for sharing, reassure them that you and their other parent will talk about it and find a solution together.
5) Schedule a regular time to talk with the other parent about co-parenting.
Scheduling a regular time to discuss child-related issues can build a positive and trusting co-parenting relationship. A regular time set aside to talk about both the good and bad things in your co-parenting relationship means that hopefully not every conversation will be a stressful one. Plan to share positive things about your child as well as positive things that you appreciate about the other parent. While this may be hard to do at first, practice it. Look for positive things the other parent does to build that part of your relationship rather than focusing on the conflict. When difficult conversations are necessary sandwich negative issues between at least two positive statements or comments.